Pyrite is a mineral ore added by AquariCraft that can be found in lakes and small ponds.  It's quite common in occurance, and can be crafted into weapons and armor.  It has the appearance of small chunks of golden ore embedded in sand.
Pyrite ore requires a level two (stone) or higher pickaxe to successfully mine. It must then be smelted in a furnace to obtain a Pyrite Gem.
Pyrite ore can be utilized to create player traps, as it can be mined and replaced in its raw form.
Natural Occurrence
Edit
More coming soon...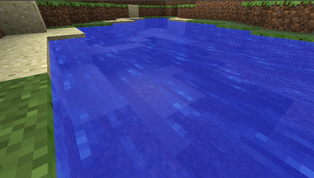 Craftables
Edit
Once smelted into a Pyrite Gem, Pyrite can be made into weapons, armors, blocks and more.
Pyrite ArmorEdit



Pyrite ToolsEdit





Decorative BlocksEdit



Type:
Requirements:
Physics?              
Transparancy:
Luminance?
Blast Resistance:
Hardness:
Tools:
Stone Pickaxe
Iron Pickaxe
Diamond Pickaxe
Ammonite Pickaxe
Aquamarine Pickaxe
Diopside Pickaxe
Fluorite Pickaxe
Trilobite Pickaxe
Turquoise Pickaxe
Beryl Pickaxe
Garnet Pickaxe
Jasper Pickaxe
Opal Pickaxe
Hematite Pickaxe
Pyrite Pickaxe
Shark Pickaxe
Renewable?
Stackable?
Flammable?
Drops: